Helter Skelter at Dragonfly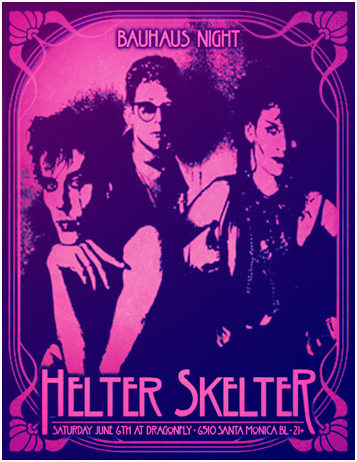 Saturday March 14th...
Flyer:
http://evilclubempire.com/helter-pass.html
RSVP:
https://www.facebook.com/events/442043482611823
We're back for our March event with a Rozz Williams Christian Death Night. We'll be playing all of your Helter Skelter favorites along with a h eavy dose of Rozz related projects.
Helter Skelter will offer two different areas for dancing...
Main Room - Lots of Christian Death, plus all your Helter Skelter favorites - Old School Goth, Post Punk, Deathrock, Industrial, and Dark 80s. all spun like we used to in the original days.
The Patio - Dave Batts & Shane Dingbat weave a web of rare and obscure mix of Goth, Punk, & Deathrock.
Its Five Dollars Before 10:30pm. And only $10 after. See you there!
Helter Skelter at Dragonfly
6510 Santa Monica Blvd
18 & Up . Full Bar . 10-2am
----------------------------------------------------------------------------------------------------------------
-
Add us as a Friend:
https://facebook.com/evilclubempire
-
Sign up on the Evil Club Empire email list:
http://app.streamsend.com/public/0VDs/2S4/subscribe
-
Discount Pass:
http://evilclubempire.com/helter-pass.html
----------------------------------------------------------------------------------------------------------------